The Anatomy of a Panic 9/11
I guess with M$M, in a haste to get the news out truth or reality is not necessarily an option. Nice going
MKH
for the audit trail of reports which left me the opportunity to editorialize.
In the navy communication had to meet the following required criteria in order:
reliability, security, speed.
In civilian media two of those are usually thrown away!
Tags
news
reliability
security
speed
events
Comments
---
Mark de LA says
seth 2009-09-11 08:51:02

12582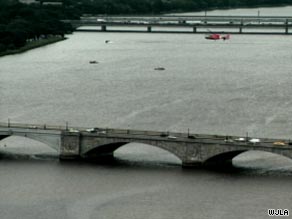 Yep the media/internet has become a hyper-sensitive nervous system. Officials must operate with quick reactions. I don't know if that is a good thing or not; but it certainly is a change from 20 years ago. I was watching the event unfold on CNN this 9/11 morning. It didn't take long for them to get the story right.
Now all that needs to play out is the repercussions
.

How long did it take? I remember the reporting on the Rodney King riots & just about every natural disaster like an earthquake or hurricane & it's all the same. It looks worse at the beginning & sometimes turns out to be nothing at all like the photographing of airforce one near the statue of liberty.
Watching the news is a survival meme. There are those in the BHO administration who are using such ("a crisis is a terrible thing to waste") to further their agenda. The media supports that for their own survival as well. Film at 11.
---
Mark de LA says
Here is another thing that is being distorted far out of proportion. Thanks for the nuances provided by
MKH
for putting it back in proportion.
Source
: ...
The non-partisan Congressional Research Service released a report in August to little media fanfare that said:
"Under H.R. 3200, a 'Health Insurance Exchange' would begin operation in 2013 and would offer private plans alongside a public option…H.R. 3200 does not contain any restrictions on noncitzens—whether legally or illegally present, or in the United States temporarily or permanently—participating in the Exchange."

CRS also notes that the bill has no provision for requiring those seeking coverage or services to provided proof of citizenship. So, absent some major amendments to the legislation and a credible, concrete enforcement effort in action, looks like the myth on this issue is the one being spread by Obama, Reid, Pelosi, et. al.
... Without a provision for ID cards the issue is moot. We'll see if BHO ever sends his version of the bill to Congress.

---
Mark de LA says
seth 2009-09-11 09:58:36

12582
source: MR above instancing bug
12561
How long did it take?
Well actually i was watching Matt Lauer on the Today Show when it broke, so i didn't catch the first panicky report. By the time i switched channels back to CNN, Heidi Collins has already started reporting unconfirmed hints that it was an exercise. Obviously this has nothing to do with the BHO administration, your opportunistic associations notwithstanding.

Presidents & BHO in particular gain a lot of power in a crisis & use it to further their agendas. BHO has done very little else. Panic & fear is a lot better motivator than calmness & courage and steadfastness.
---
louis vuitton online says
I love your site and the article is useful!This is my blog, Welcome!
---
See Also