Sticky Barter App Specs
This
link
from the Facebook links on online barter inspires a mashup of Facebook, Twitter & a system like bitcoin to link jobs & daily needs (vs recycled things, auctions for money, used books & regular supermarkets).
I want to create a barter transaction network where when we get all the elements of the network offered & provided the whole thing goes to completion:
6 pigs + 2 doz carrots + 12 biscuits + 18 loves of bread etc. = 12 rollsof toilet paper + 21 steaks + 2 lbs of flour ... etc.
A sample contract between 2 business is provided on the Tradeja Facebook page photo bucket. My idea is to provide online social network app to do the job.
Delivery of goods, services, products etc. must be backed up by something like PayPal or other $$$ only on default.
I'm just thinking .....
Tags
barter
Comments
---
Seth says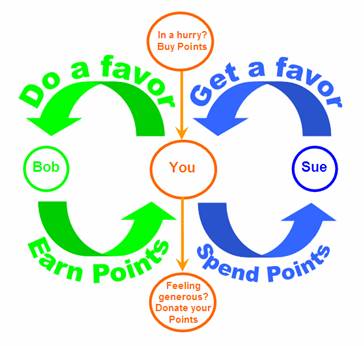 Zakle from one of your links looks interesting
. I actually think that the social network could bootstrap a barter system. But doing it successfully, appeasing the government, and meeting your own requirements would take quite a bit of thought ... not to mention assemebling a team to make it so.
---
See Also
Thought about: streetbank - share things with your neighbours with 0 viewings related by tag "barter".