Googling around about Mckayla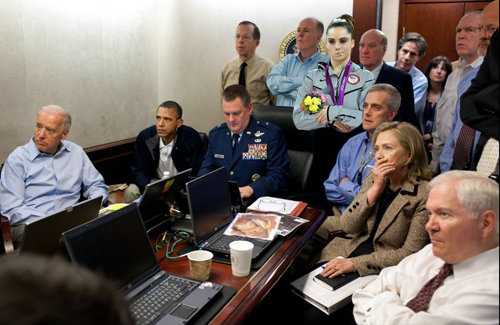 Tags
mckayla
obama
not impressed
Comments
---
Seth says
---
Mark de LA says
A rehydrated turd doesn't taste any better.
---
Mark de LA says
seth 2012-11-17 10:51:01

16132
Mark 2012-11-17 08:39:18

16132
seth 2012-11-17 08:31:00

16132
Then too we find
....
... not photoshoped.
KEWL!
Did you violate
the use clause
under the pic?
Yep, I probably did
... according to the letter of the law. That said, the the photo was almost certainly intentionally designed to spread virally.
Also interesting is that my new filter should normally have excluded you comment from my awareness ... as it is obviously a intitation to RWG. But not matter at all ... this one is kind of fun.
Well, my filter would probably ignored the picture entirely since it is just another optic for Obama. Maybe I'll cut him out and use it later, eh?
---
Mark de LA says
I think we got a new one:
---
Mark de LA says
& ...
---
Mark de LA says
DRUDGE found a use for the pic this morning:
---
Seth says
M 2012-11-17 13:08:12

16132
seth 2012-11-17 12:55:46

16132
Strange, it seems to me that there are quite a few "optics" of Obama in
group mark
in the
obama bashing
room.
You
are not ignoring them.
Non-sequitur brought up because? The disclaimer or fair use statement seems to pretend it's not a n optic for bam-bam.
Well after writing my last comment i recognized that you had used the phrase "optic for Obama" ... and not the more general phrase that i used, "optics of Obama". Now i do not find any "optics for Obama" in your tag room ... so as far as i can see your statement is factually true ... as most, if not all, of your optics of Obama are against Obama.

The "disclaimer or fair use statement" is on all of the photos in Obama's gallery ... it says nothing about this particular one as an exception.

---
Mark de LA says
seth 2012-11-18 10:16:03

16132
M 2012-11-18 09:43:05

16132
seth 2012-11-18 09:19:03

16132
M 2012-11-18 08:43:45

16132
seth 2012-11-18 08:39:30

16132
... a kind of in-your-face to the WH's copyright notice, eh? But i doubt that the WH will prosecute drudge ... not their style.

I'm more like this illustrates the proper use for the pic because nobody believes the president here.
... help me out here ... i can't quite follow all the switch around of sineage ...
Is Drudge like saying that they are unimpressed with the
WH's denial that they edited the talking points
?
Yep ... you knew that all the time.

Yeah, perhaps ... i had to examine it pretty closely to figure it out ... could have been about the headline above ... could have just been that they wanted to flash the picture ... or perchance could have been that in-your-face challenge to the pres to enforce his copyright. What the message would say then, if interpreted literally, is that the wh is uninpressed with it's own denial ... or is it that the wh is unimpressed with the idea that it edited the talking points. See that's the problems with signs ... does the lion's footprint in the dirt represent the lion ... or that the lion walked there ... or that this is a dangerous place for you to hang around ? just the nature of the ambiguity of sineage and the contexts in which you find them .... lofl

.. or Obamalagnia just melts your mind & makes you unable to see the obvious; your identity as a believer in the president being just another shroud of your
self
notwithstanding.
---
Mark de LA says
Now we know why she has that look on her face:
http://www.foxnews.com/sports/2017/10/18/mckayla-maroney-olympic-gold-medalist-says-doctor-molested-her.html
---
See Also