thought
Describe what you would like to represent the New ...my page button on the button bar.

Tags
news
fastblogit
Comments
---
Seth says
Actually it is a news page. You go there to see things that have changed since last you checked the site. I put a "new" button up there because that is all i had handy, but really it is "news" like in "news paper". Another concept might be "What's New?"
that said, hmm ...
.. what would
like to represent that
...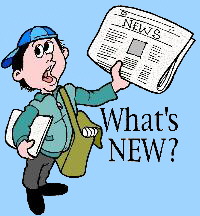 on speak to me front door i found a clicp-art news boy

which is close but certainly a bit much to get into a button.



---
Winnie says
OK
---
See Also