#AssUMe #AssYouMe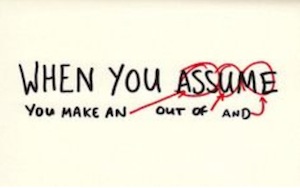 Tags
MakeShitUp
AssUMe
Comments
---
Seth says
yep pretty much like #MakeShitUp
---
Si says
I don't get that. #MakeShitUp is like the ultimate creative process. It is like climax during sex.
---
Seth says
… which is your shaping of makeShitUp … so it is quite clear why you would not get the relationship to #AssUMe. But then you know that to me "
makeShitUp"
means something quite different.
---
Si says
I know that you choose a definition that does not support you as well. It is just a vague pointer over somewhere to me. I don't want that dish … I don't identify with it … I identify strongly with the dishes I like on the buffet.
---
See Also