Talking Triumph, the Insult Dog, Keychain from Speak To Me Catalog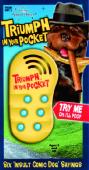 This one has someon's name all over it

Guess who ...
listen here
.
Tags
speak
dogs
scatalogy
insults
triumph
keychains
Comments
---
Mark de LA says
Almost sounds like Denise in parts (;-))
---
Mark de LA says
Thanks for your generous gift of this item which arrived yesterday. My favorite is the "I like you, but then again I eat my own crap"!
Fortunately Tina got a bigger kick out of most of them so she gets to keep it !

---
See Also