War On Christmas
We have already been appraised of John Gibson's "
The War on Christmas
: How the Liberal Plot to Ban the Sacred Christian Holiday Is Worse Than You Thought". I implore you all to sign on to Amazon and purchase this expose of the Liberal conspiracy to erode our sacred tradition. They are perverting Christmas; and , according to Bill O'Reilly "even baby Jesus would say, 'give me a break' ". Letterman, who says "
I have the feeling about 60 percent of what you say is crap
." doesn't feel threatened, he says
source: Letterman
"but isn't this the kind of thing where, like, once or twice every 20 years somebody gets outraged and says, "Oh, my god, we've got to put diapers on horses"? Isn't it just about, is this like, "So what? Let it go. It'll take care of itself"?
But i say it's time to take up arms and smoke these liberals out of their caves and get them running
like we did to Al-Queda.
Now I feel it is my duty to disclose an even more sinister liberal plot to despoil the standard icons of our Sacred Christmas traditions. We uncovered this conspiracy while visiting the row upon row of factories buried deep in China's industrial parks. These factories have, for several years, been shipping millions of subversive gifts that even this year have clustered under our brightly lit American Christmas Trees.
Here, are examples of the actual shipments: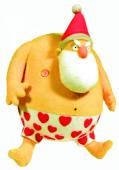 Talking Nasty Santa Doll
(2003 from
jib jab
)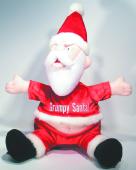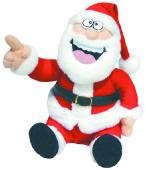 Pull My Finger Farting Santa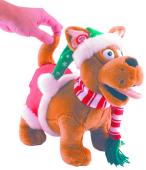 Rude Rover,
oh, my God
listen to him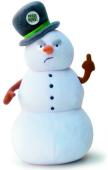 Tags
christmas
war on christmas
jib jab
liberal
politics
john gibson
my comments
dmarks
spoof
Comments
---
Mark de LA says
[FYI: uri http://www.clichesite.com/content.asp?which=tip+564]
---
Mark de LA says
FYI, the Santa Clause (St. Nicholas) story is described here.
enjoy
---
Mark de LA says
Perhaps some of you would like this view better: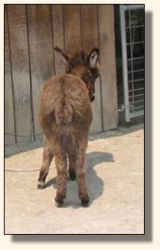 ---
unknown says
too funny!
---
unknown says
(that was me, sean)
---
Mark de LA says
I have connections.
---
Seth says
mark 2006-01-10 05:52:23

2457
I wonder why these Santas keep popping up in the living stream. If it is for sales purposes you can certainly delete the ass-stuff (;-))
It is just that i keep mucking with the presentation. It is my spoof on Bill Bill O'Reilly's absurdities ...
google war on christmas
... i don't know what you mean about sales stuff
.
PS: delete your own ass
---
Seth says
mark 2006-01-10 07:20:33

2457
O, I thought those santa thingies were links to your
uri http://speaktomecatalog.com
- maybe trying to sell overstock. (;-))
Anyway I will keep the ass stuff.
Speak To Me Catalog .. lots of fun stuff there ... i never heard of it before. How did you ever find it
?
---
Seth says
winnie 2006-01-09 15:25:58

2457
Have you ever noticed that -
when things are forbidden more people want it.
Yes

---
See Also