funny page cartoon
Looke! Looke! Looke!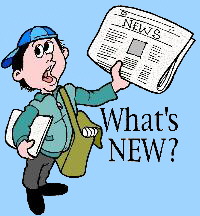 Comments
---
Seth says
M 2006-03-13 07:40:07

2942
Are you advertizing something new with the cartoons ? cuz I don't see anything since the last time I did one.
Development on edit\clone is progressing
here
. I have achieved clone. But it's not being released untill it's better integrated and several kinks removed. Having an edit and clone feature is not as simple as it might have appeared .... in fact it was quite a challenge. But am over the hump now.
---
Seth says
One offshoot of the design is that cartoons are versioned. Only the latest version cartoons will be capable of edit/clone. The other's will be frozen.
---
Seth says
seth 2006-03-13 08:07:07

2942
M 2006-03-13 08:01:11

2942
Does that also mean that we will be able to put them somewhere besides the
group funnypages
?
Actually they already go into the group in which you are signed on to. If you are not signed on at all, then they go into
group funnypages
. That's the way it's been for a while.
---