BOOK CHAMELEON - first edition offering
This is a good place to get the first edition of Book Chameleon by
CFR
published 1940 . Learn about the cube & it's relationship to the Yi King (or I Ching) - the Chinese book of changes. Learn lots of alchemical correspondences & references to the OTzf ChIIMf (Tree of Life) & ultimately the Tarot. Lots of information & material in this book for you to knit together the metaphysical & the logical in one giant meditation !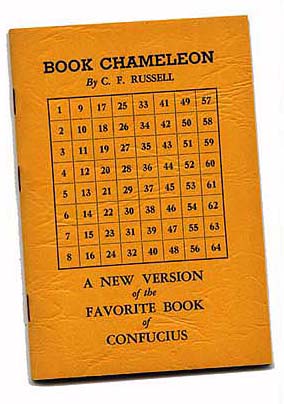 Tags
yi king
i ching
book chameleon
cfr
Comments
---
Mark de LA says
Jean Keating 2007-09-15 06:30:09

3358
I want to purchase BOOK CHAMELEON by C.F. RUSSELL
Go to the website
http://cfrussell.homestead.com/files/chameleon1.htm
and follow the link at the bottom of the page. There you will find an email link to accomplish your purchase. You will need to provide your particulars like name/address etc & arrange an appropriate way to pay for the book.
Namaste,
-M
---
Eiamyme says
Kevin Davis 2014-12-20 10:56:21

3358
Will try to set one up and get back to you. Thanks!
---
Seth says
---
See Also