China Town San Francisco
These sketches by Frenzeny and Tavernier of old China-Town need to be on the web.


"If you walk through China-town on Sunday you will see a curious sight, and one which, if you are a thoughtful man, will not amuse you."
I'm not sure what did not amuse Mr Nordhoff, it was probably some form of xenophobia. In the 70's i wandered around China-town ... frequented the restraunts .... saw the
smoked ducks hanging in the windows dripping
... and learned not to open a Chinaman's trash which they carefully wrap up ... it rarely contains eatables.
"
Jackson Street
, Sacramento Street, Dupont Street and the streets and alleys which lie between, are the Chinese quarters of San Francisco."
But don't
look for Dupont street
, they changed the name to Grant Avenue after the earthquake. Grant Avenue has a touristy feel now ... all the life, as i remember it, was over on Stockton.
"A Chinese gambling hell consists of a narrow withwashed entry, at the end of which hangs a flop of cloth. The play-room lies at right angles with the entry, and is, of course, out of view.
In the entry sits a man, apparently asleep, or dreaming
."
Tags
harpers weekly
chinatown
san francisco
1875
Comments
---
Seth says
A picture of modern San Francisco chinatown ...
source: ...
THE STREETS OF SAN FRANCISCO - FROM THE TAXI DRIVER
'S SEAT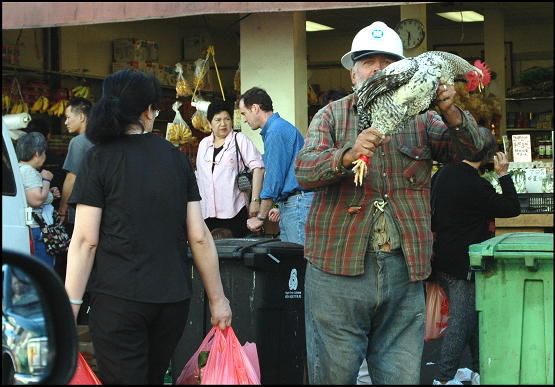 ...

---
See Also