Tools For The RWG ...
For those of you who like to play the "
right wrong game
", fear not, Speak To Me Catalog is proud to announcing a new tool ...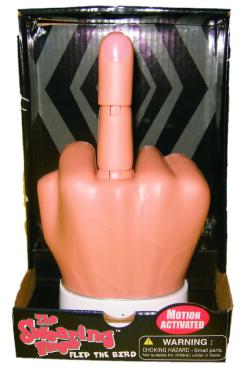 Tags
the finger
swearing
rwg
speak
Comments
---
Mark de LA says
I could barely hear the words, but I prolly don't need them - I think the medium is prolly the message.
Anyway for your auditory enjoyment is one of my favorite songs related to soldiers.
Fuck them all
. There is a auditory link button on the page along with some of the lyrics which gives you a a few choruses if you like. Many other drinking songs on the CD.

---
Seth says
Me thinks maybe your volume was down ... the finger plays very loud and the demo came through loud and clear here. That web site you quote has a lot of fun sounds ... i think Mark Foley would like
this one
.
---
Mark de LA says
I think
this one
is for Seth.

---
See Also