An anatomy of a lie ...
Here is the lie ...
source:
State of the Union Address January 2003
"The British government has learned that Saddam Hussein recently sought significant quantities of uranium from Africa."
... but he and the man behind and to his left knew at that time the British report had been discredited.
When you listen to him tonight keep in mind that you cannot trust what this man tells you.
Let us examine some documents:
Update 3/6/2007

source:
washington post
Former White House aide I. Lewis "Scooter" Libby was convicted Tuesday of obstruction, perjury and lying to the FBI in an investigation into the leak of a CIA operative's identity.
Tags
bush
bush lied
state of the union
chaney lied
valerie plame
libby
witch hunt
libby lied
yellowcake
Comments
---
---
Mark de LA says
---
Seth says
---
---
---
Seth says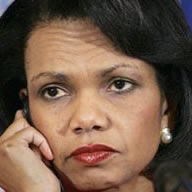 "We also do not know how the fabricated claim made it into the president's State of the Union address."
... Do you think she will?

---
Mark de LA says
... & now ~ 3.99 yrs later from this post, not having Bush to kick around anymore, the actual disclosure of a CIA operator in Pakistan is pretty much ignored. What colossal hypocrites these leftie M$M are:
TWS
: ...
The revelation of Davis's CIA ties, made while he's sitting in a Pakistani prison, has put him in far more serious danger than anything ever experienced by Valerie Plame, who's "outing" led to a glamorous photo-spread in Vanity Fair, a book deal, and a movie starring Naomi Watts and Sean Penn. Plame's exposure might have ended her career with the CIA (albeit, just the covert aspect; she was perfectly able to continue working as a non-covert officer and didn't quit the agency until more than 2 years after the Robert Novak column in which her name appeared was published). But it certainly didn't hurt her pocketbook.
... so who actually leaked Davis' CIA connection to the media? HRC? ... 8 yrs after the Plame incident.

---
See Also