BerkShares & other private money
My original encounter with private money was with the
MPC
in Viet Nam. To prevent mischief with the locals a special currency was used. Now in a town in Massachusetts some use their own currency to keep the money flowing to local businesses. Obviously not all things, like mortgages & credit cards, accept such currency. What is fascinating is the dynamic of private currency; Gresham's
Law
& other dynamics. In a way it is closer to barter than the inflationary government controlled federal reserve note & the imaginary numbers in the bank & government balance sheets.
What it also does is provide a vehicle for
selective spending
.
The theory is that the BerkShares will be spent & accepted locally for goods & services that are produced locally. It's barter at a more convenient level. Somebody sooner or later will try to tax it. The money looses it's value when converted back into dollar$. Perhaps there is something in the idea which could be extended to support other things like green stuff &
buy American stuff
(
google buy american
).
For extra credit compare & contrast this idea with the carbon credit boondoggle! Will there be a reversion, if this catches on, to the large amount of different currencies that were around at the beginning of the USA?

Tags
selective spending
liberty dollar
berkshares
private money
Comments
---
Mark de LA says
---
Seth says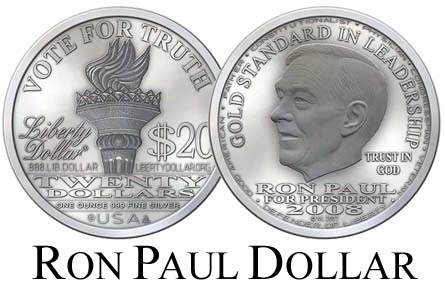 Of course, Ron Paul is the up and comming popular libitarian (though he is running as a republican) candidate. There was a story yesterday about him raising millions overnight ... sorry lost the references, but maybe its
under here somewhere
. I like Ron Paul and most of the stuff he says but i doubt that he will be appearing on the top of the Republican ticket next year. He does seem to have
lots of grass roots support on the net
. The connection between him and the raid is
totally unclear
.
---
---
---
Seth says
The Liberty Dollar may have been a scam ...
source:
Liberty Papers
Looking over the full document, I can see where there might be some standing for a case against the Liberty Dollar*. I
---
Seth says
NBC Indiana has a you tube story, worth watching ... i'll try to embed it below ...

---
Mark de LA says
source
: ...
During the Depression, local governments, businesses and individuals issued currency, known as scrip, to keep commerce flowing when bank closings led to a cash shortage.
By law, local money may not resemble federal bills or be promoted as legal tender of the United States, says Claudia Dickens of the Bureau of Engraving and Printing.
...with a loss in confidence of the value of a dollar and the willingness of the government to just print trillion$$$$$ for future generations to pay back, perhaps this is a way to ease into a
threefold
society. There is some indication that communities that have a spiritual basis to be together can transform the way they live & relate far easier than something mandated from ivory tower ideals mandated at a federal level.
---
See Also