Obama versus the Wright
Tags
racism
politics
obama
jeremiah wright
rwg
imus
kramer
item 9226
Comments
---
Mark de LA says
Those who were already blind, & swooning for Obama will be swooning still. Those who were suspicious of this liberal, racist will understand that this is liberalism at it's finest - the individual no longer responsible for his own action - racism traced all the way back to slavery; pandering to collective guilt 140+ years after the civil war. Welcome to the racial candidate! Invest now in the race industry it will be alive & thriving in 2009 if he is elected. Expect 4-8 years of the race conversation. He had his chance & he muffed it!
Otherwise I say
NO!bama

---
Mark de LA says
Actually, I am predicting that Obama could probably turn this controversy into a
Sister Souljah
moment
if he's any good. See the
Wikipedia
on that.
---
Seth says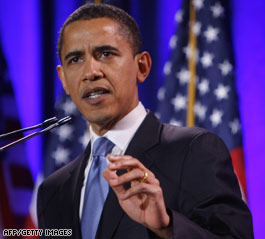 Well he nailed it
.
M
, in particular, should like this quote:
source:
full transcript of Obamas address
It requires all Americans to realize that your dreams do not have to come at the expense of my dreams; that investing in the health, welfare and education of black and brown and white children will ultimately help all of America prosper.
In the end, then, what is called for is nothing more, and nothing less, than what all the world's great religions demand -- that we
do unto others as we would have them do unto us
. Let us be our brother's keeper, Scripture tells us. Let us be our sister's keeper. Let us find that common stake we all have in one another, and let our politics reflect that spirit as well.
---
Mark de LA says
This is your spokesman on liberalism:

---
Mark de LA says
Yep! At this point it is incredible how he can be a member of the church which hosted this racist preacher Jeremiah Wright for 20 years & contribute 20K to that church & not know what Wright was all about. I would love to see if Wright & Obama would publicly subscribe to the terms in
714
about what racism is. The Church of Christ is the same church that Larry D. used to belong to. I heard them preach in both Missouri & Venice, California & none of the kind of stuff that Wright says did I hear. I think that Wright dishonors that church.
This is in re to the missplaced comment on
714
.
Please keep that item free of politics & polemics.
---
Mark de LA says
I think Obama is in a real bind here. Either he is a phony church goer who makes his own attendance for show & misses the sermons of Wright or he is probably lying about not knowing.
---
Mark de LA says

---
Mark de LA says
Minus the charm, here is the speech in
text
. I watched it live. You need to use your critical faculties by reading (if you can)!
---
Mark de LA says

---
Mark de LA says
Comment below moved to maintain the purity of
714
!
source: ...
seth 2008-03-17 12:17:32

714
Me thinks
Barack's speech tomorrow
is going to be very interesting. I had said that he should give a speech in response to the recent attacks ... and now it appears that he will. Let's hope it will be a good one and will turn the tide.
...

---
Mark de LA says
seth 2008-03-19 04:38:58

9526
What i find interesting - and telling - is that the M(ark)s and the Limbaughs of this country do not even recognize an
authentic American
when they hear one. In this speech Obama has eloquently put to bed the fears of the black community that he is not black enough - he will win votes with them. At the same time, while standing above the anger that infects both sides of the racial divide, he has explained it. As such he has proven that he is a statesman. It is time for us to turn him loose on the real problems which befall our policy in the world - Iraq and Iran. He can be my spokesman ... anytime.
What I find interesting - and telling - is that the Seth's and the Jeremiah Wright's (& Louis
Farrakhan
's) of this country won't even admit to being phony liberals (& hyphenated-Americans) when they hear one of their own; One who promises & says anything his audience wants to hear to ascend to power. One who does a fine job of delivering yet another
Rorschach
speech where everybody hears what they want to hear. He explained nothing on the racial divide except that he can accuse his own grandmother of being a bigot. Embarrassed by his own guilt of association with a racist preacher he was afraid to confront him when it happened (or he agreed with it) until his campaign faltered by those who expose the truth. If he can't even confront his own preacher how will he ever tackle the religious zealots in Iran & the Middle East. He won't be my spokesman anytime! You (Seth) certainly proved that you don't understand
714
nor the stuff in the
tagroom for the Golden Rule
. Obama excused his own guilt of association by assigning racist guilt to everyone else. That's not courage or statesmanlike, that's the usual "everybody does it" bullshit.
---
Mark de LA says
This is a fascinating YouTube
counter to the rev Wright's racism. This is not condoned nor endorsed by me & is still counter to
714
, but Seth, if you are open-minded see if you can watch it all the way through.

---
Mark de LA says
Howard Kurtz
did a decent job from a media perspective of analysis on Obama's speech the other day.
What occurred for me as I read it was the question "Why Did Obama not disown race entirely in politics" i.e. declare for all time that the human race is the only one that matters. Instead of saying
source: (Obama) "I could no more disown him than I can disown the black community. I could no more disown him than I can disown my white grandmother . . . who once confessed her fear of black men who pass her by on the street, and who on more than one occasion has uttered racial or ethnic stereotypes that made me cringe."

... he could have said
source: (me)
I disown race, not my race but all race, except the human race! No longer shall race be an excuse, cause celebre or motivation for any kind of positive or negative human behavior! No longer will we separate into political groups by race expecting special benefits or condemnations by any other race than the human race! I declare the racial divide gone forever!
Unfortunately, for him & you & me, the Democrat party lives to dispense government largesse (read yours & my tax dollar$) to individual groups as the basis of power in an ever expanding government. To disown race would mean to disown part of their power base - not happening in the near future!
---
Seth says
Actually, Mark, one cannot disown their race - it is part of their experience, part of their history. That would be like asking you to disown your seventh birthday, or your first kiss, or the beating up you got from a black boy at John Adams Junior High School. Disowning experience is not possible short of lobotomy. To get real, what we can do is to "move beyond some of our old racial wounds" ... and that is what Obama said in his speech, and that is what Obama has done in his life and career. Racism cannot be wished away with
idealized concepts
and empty words that do nothing to get us from here to there.
Buried in this address is a new paradigm - one that, if heeded, should cut both ways. Condemn, repudiate, reject and refute someone's careless or stupid words; but accept the reality of their life and times. No longer is it acceptable to obliterate a person's life work and end their career by taking their outbursts out of context. This new paradigm should apply equally to an Imus or a Kramer. It should pretty much put Al Sharpton out of business. It is time for America to grow up about race, not to sweep it under the covers with empty idealizations.
---
Mark de LA says
source: (me, above) I disown race, not my race but all race, except the human race!

... you missed the point it's morphologically equivalent to disowning racism!
There's something magic in a bold declaration. It doesn't necessarily make what's said true, but it does refocus your attention & consciousness. What does make it true is the continued & continuous personal congruency with your declaration - unwaveringly, unswerving & in the face of forces dragging you back into the old ways of being. If you are a leader of a group you have to correct your group every time it's necessary. It works every time it is tried.
P.S. (hint ... it's about saying what you are going to do & then doing what you say.)

---
mlk & jfk says
---
Mark de LA says

---
---
---
---
---
---
---
---
---
---
---
---
---
---
---
---
---
---
---
---
---
---
---
---
---
---
---
See Also