Bad Choices of Words (or NOT?)
Tags
obamma
bitter
the finger
anti obama
Comments
---
Mark de LA says

---
Mark de LA says
It's interesting how some truth is unmasked in spite of the Obammagasm of the M$M
---
Mark de LA says
seth 2008-04-18 09:59:57

9802

The more you see of Hillary the less you like her. I doubt that it is just me. Not so with Obama ... he grows on you ... you discover new deapths of his character.

The more Obama opens his mouth & discloses who he is & his character as a garden variety liberal who would destroy America in the name of his special interest demographics (a divider not a uniter) the Obammagasm peter meter droops!
---
Mark de LA says
seth 2008-04-18 11:02:06

9802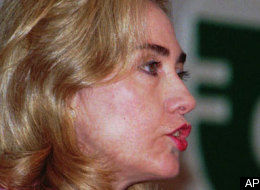 Obama has not gone negative on Hillary but there is plenty of negative material out there on her...

... not to mention her famous: "
Screw 'em
" about southern working class whites. The more people hear of these, the more they are going conclude that this is one nasty petty politician. She makes Barack's bitter comments sound like a baby talk. I'm glad that Obama has chosen to keep the discussion on substantive issues ... but, were Hillary to get the nomination, you can not expect the republicans to be quite so honorable.
The point is neither of them is good for the country!
The Democrat party should get somebody else or lose to McCain.

---
Mark de LA says
seth 2008-04-18 17:00:09

9802
seth 2008-04-18 16:52:11

9802
M 2008-04-18 16:33:39

9802
Sorry, bugs in the website managed to delete your last & my last on the tempest in a teapot.
Well then you should go reproduce it ... took a lot of work.
FYI there is no such bug in the website, you simply clicked on the wrong comment. You should at least take responsibility for your actions and not erroniously blame them on others.
You are full of shit! I knew exactly what I was doing. There appeared on my screen 3 copies of the comment. When I deleted one copy all of them & your comment went as well. It was not worth it anyway. Maybe it's the ISP or the timing.
---
See Also